Everygame Sportsbook has every game you could imagine that would make your online gaming experience one of a kind. The betting platform offers a variety of games to its players. They were formally known as Intertops, one of the first online sportsbooks in history!
Sportsbook Software
Not all betting platforms are created the same. Everygame Sportsbook stands out due to its software. The betting software is developed to offer many top sports and games for players to play. It allows for multiple lines and props. The website alone when you first land on the site is made of superb quality. Everything is easy to read. It is easy to navigate. You will see exactly where you can go to sign up and create your account to start playing.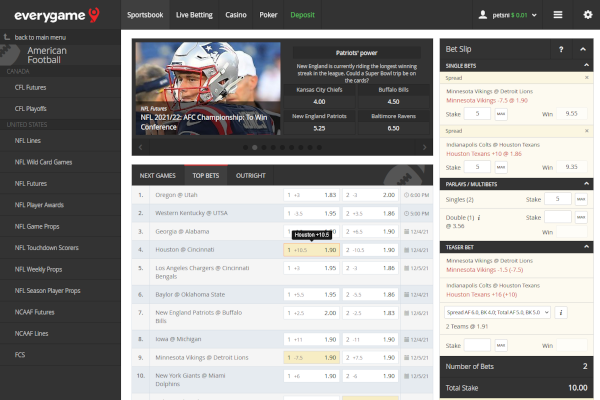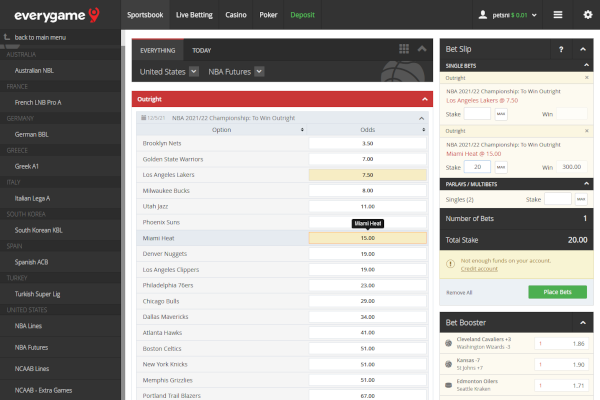 Bonus & Promos
To celebrate 25 years of online sports betting, Everygame are offering a huge welcome bonus! New users can claim a 200% welcome bonus when they sign up. After that, they will enjoy the slew of promotions and gifts available to current players. Amongst these are chances to win a trip to the Final Four or Superbowl!
Payments
The deposit and withdrawal process is very simple. To make a deposit you will need to go on the website and click sportsbook. Then you will be taken to a different page. Select deposits at the top of the page. Here you will make your deposit. There are several methods for you to make a deposit. You can make a deposit with a Visa or Mastercard. Skril and Skrill 1 Tap are available options. You can also make a deposit with cryptocurrencies like bitcoin and litecoin. Bank transfer is another option.
Lines Variety
There are hundreds of lines or depth for each of the games. In addition, the platform does have top sports listed. The breadth of sports are several hundreds.These top sports are American football, basketball, ice hockey and tennis. Addiitonal sports include soccer, motor sports, golf, handball, volleyball and table tennis. In each one of these sports there are several sporting events making the breadth of the sports total up in the hundreds.
Support
There are many online gaming and betting platforms on the internet. But many of them tend to not have the best customer support. Everygame Sportsbook prides itself on having a great customer support team. Be assured that you will get top of the line quality, credibility and trustworthy support from this company. They are here to help you. They respond promptly and fix any problems you have rather quickly. The customer support team at this company is very professional. You will be very pleased with how they take care of their customers.
Not only are the games spectacular, the ease of receiving deposits and making withdrawals are additional perks of this platform. The customer support is reliable and professional. This is another plus to using Everygame Sportsbook as your online gaming platform.