At the forefront of sports betting, Bitsler's sportsbook provides an exhilarating entryway into the world of sports wagering, boasting an extensive array of sports markets and thrilling betting prospects. With a multitude of sports disciplines and events to choose from, both mainstream and niche, Bitsler empowers you to explore your passion and put your sports knowledge to the test. Whether you're an ardent football fan, a basketball aficionado, or prefer niche sports, Bitsler's diverse array of sports markets ensures there's something for everyone.
Sportsbook Software
It boasts a streamlined and user-friendly platform, a source of pride that caters to all levels of bettors. Its intuitive design ensures that both beginners and experienced punters can effortlessly access a vast array of sports markets. Whether you're dipping your toes into sports betting or a seasoned pro, Bitsler's platform is crafted for maximum convenience and ease of use, ensuring a warm welcome to sports enthusiasts eager to dive into the thrilling world of sports betting. It supports various languages including English, Chinese, French, Spanish, Indonesian, Japanese, Korean, Polish, Portuguese, Thai, Turkish, and Vietnamese.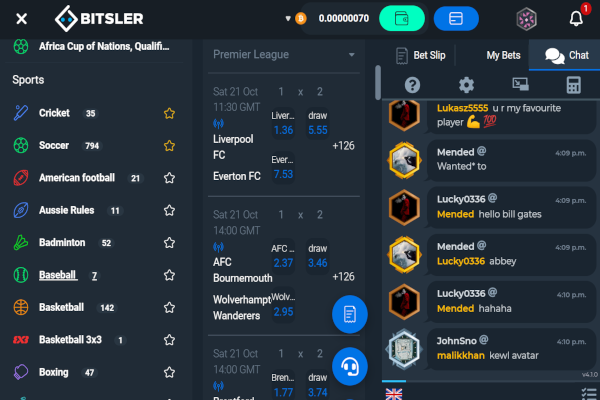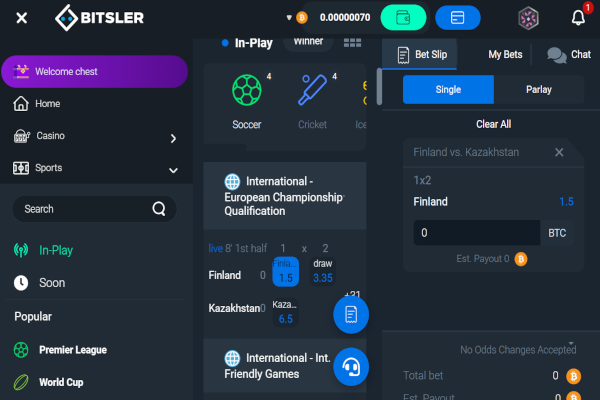 Bonus & Promos
Bitsler's sportsbook extends a generous welcome bonus, potentially worth up to $700, distributed in seven manageable installments. To kickstart this rewarding journey, players need to deposit a minimum of $20. The distinctive feature here lies in the bonus structure – instead of the typical wagering requirements, Bitsler employs an innovative system based on accumulating Experience Points (XP). In this system, players earn 2 XP for every $1 wagered on sports bets with odds surpassing 1.4. Upon amassing 200 XP, $1 of the bonus becomes accessible. The total bonus amount is divided into seven equal parts, with players receiving each installment as they meet the corresponding XP thresholds. Additionally, Bitsler values its players by providing not only a substantial welcome bonus but also a continuous stream of ongoing promotions.
Payments
Bitsler provides a comprehensive selection of payment methods including Bitcoin, Ethereum, Litecoin, Tether, Ripple, DogeCoin, Binance Coin, TRON, EOS, BitcoinCash, Binance USD, Cardano, Dash, DAI, and Zcash. Whether you lean toward traditional options such as credit cards or the flexibility of digital currencies, Bitsler's payment landscape is designed to cater to your needs. Additionally, they embrace e-wallets and a spectrum of convenient alternatives, streamlining the processes of both depositing funds and withdrawing winnings. This diverse array of payment options ensures that you can effortlessly manage your financial transactions, allowing you to concentrate on savoring your sports betting endeavors without any financial inconveniences.

Lines Variety
Bitsler's sportsbook boasts an extensive array of sports markets, designed to cater to the tastes of sports enthusiasts across the board. From mainstream sports like football and basketball to niche disciplines, there's something for every bettor. Whether you enjoy predicting match outcomes, analyzing player statistics, or exploring unique wagering options, Bitsler's dedication to variety ensures a diverse and engaging experience. With an abundance of betting choices, you're free to dive headfirst into the exhilarating realm of sports betting without constraints, making Bitsler an adaptable and captivating platform for all kinds of sports fans.
Support
Customer satisfaction is a priority at Bitsler, reflected in their responsive customer support team, available via live chat and email (support.com). Their knowledgeable and friendly support agents are always ready to guide you through any challenges you might face, whether it's related to account management, betting inquiries, or technical difficulties. Bitsler's dedication to top-notch customer support ensures that you're never alone on your sports betting journey, providing peace of mind and assistance whenever needed.
Bitsler's intuitive platform elevates your sports betting adventure, making it more user-friendly and engaging.