Founded in 1998 and licensed in Costa Rica, Achaubet caters to the American, Chinese and Vietnamese players. This sportsbook offers exciting bonuses and promos for the major sports markets, including the NFL, NBA, European football, and boxing. If you a novice at betting, we will help you determine if Achaubet is an excellent place to start.
Sportsbook Software
The most impressive features on the platform include the parlay calculator. The calculator helps you combine up to four line bets in an easy-to-use site interface. The benefits of using the parlay calculator in your betting include speed in making a bet and random quantities. Another impressive feature on the platform allows you to 'make your own player props.' If you are a novice or veteran in sports betting, you can 'build your own player props' to place wagers easily. These prop bets make sports betting more user-friendly and require minimal experience.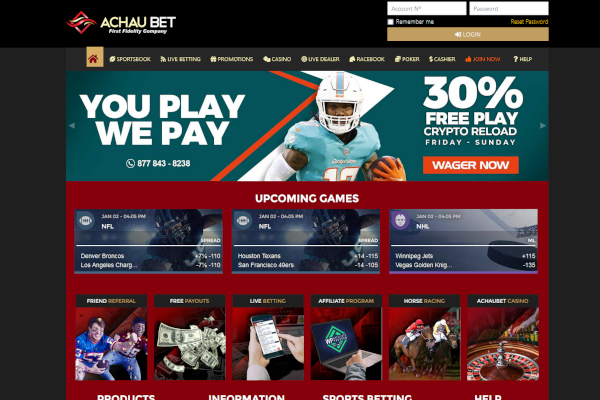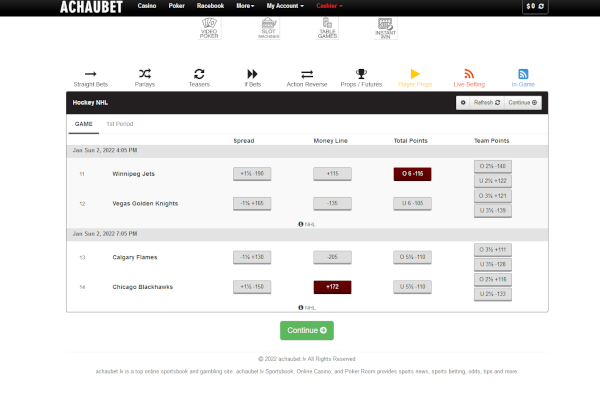 Bonus & Promos
Achaubet Sportsbook offers three main types of bonuses. Initial Deposit bonus lets you get a 50% or 100% free play bonus on your deposit depending on the amount you start with. Reload deposit bonus gives 35% free play reload on Monday to Thursday, with 20% free play on bonus on $100-$2000. Net Loss Bonus gives a 15% or 25% loss bonus free play for deposits above $500.
Payments
If you want to use crypto to place your wagers, you must find a sportsbook that accepts that form of payment. The same goes for transaction fees on the platform. Achaubet might be just that for you. You can place money into your wallet using the traditional payment methods using credit or debit cards. You can also withdraw your payout using a check or e-check. However, the platform also accepts cryptocurrency methods for deposits and withdrawals. Most importantly, the crypto payouts will be free.
Lines Variety
Achaubet lacks in variety when compared to other sportsbooks online. In major sports like football, baseball, and soccer, you can have some markets for multi-bets and propositions. You have basic money lines, spreads, and totals, while baseball offers an extra feature for run-line bets. You can wager on futures, teasers, and odd/even bets on certain games. What makes the day on the platform is live betting, which allows you to place your bet even after the game has started, before it ends.
Support
Customer service and support come in very handy in sportsbooks. The one at Achaubet is not the best you can have. Their online betting help page is a little outdated. Moreover, the live chat function does not work, making direct support problematic. The website claims to have 24/7 support, but you need to call the helpline. However, this is only viable for Chinese or English speakers.
The sports betting world is expanding rapidly, and there are thousands of sportsbooks you can put your wagers on. Achaubet, being one of the top-rated Asian betting platforms, may seem to have little going on the games to bet on, but there is more. What it lacks in variety, it compensates in including the most popular sports globally.